8HE Series
Series 8HE Oil-Fired Hot Water or Steam Boiler
Discontinued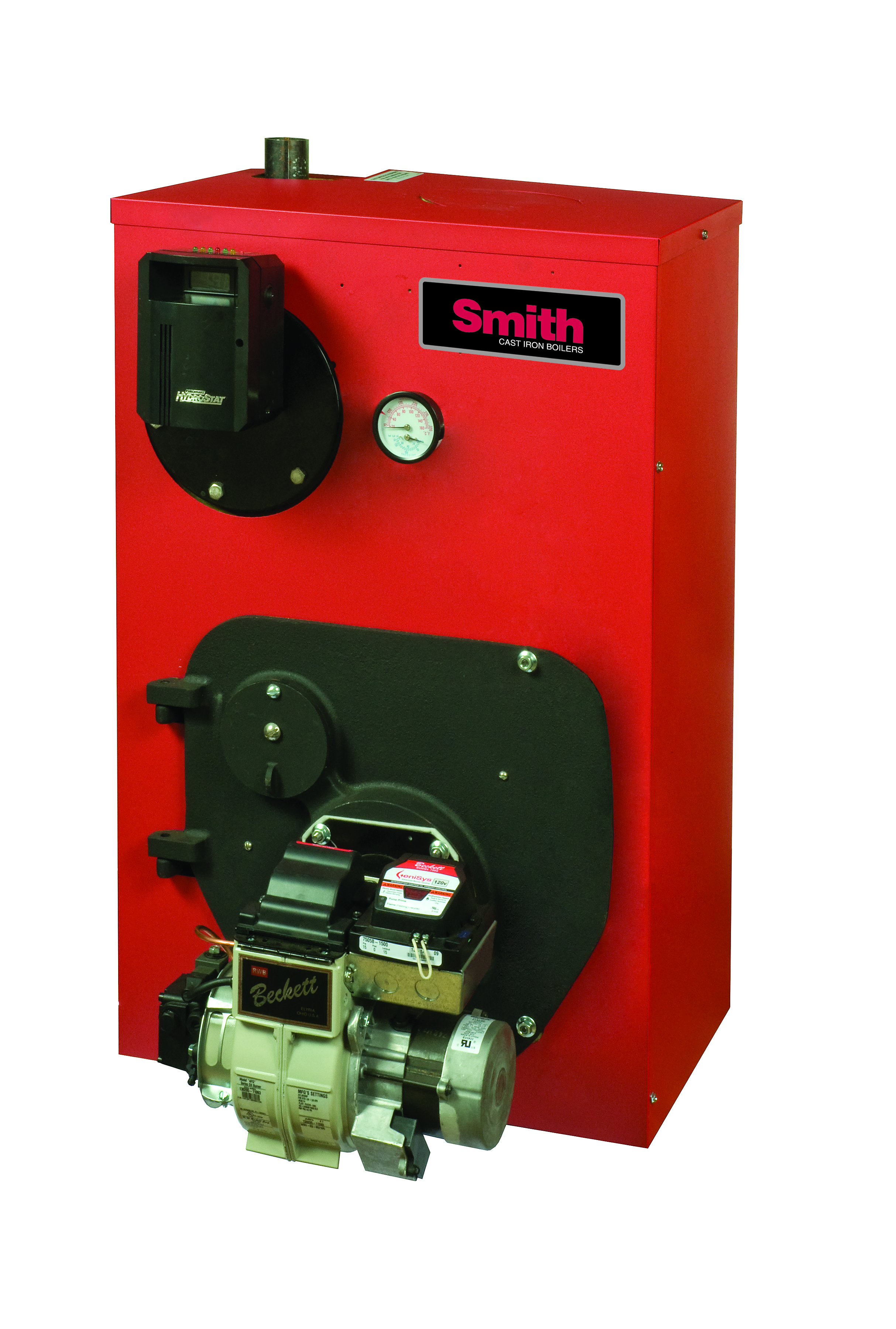 The 8HE Series, with its rugged cast iron construction, offers commercial quality in a residential boiler. With cast iron sections, the Series 8HE offers a multitude of performance advantages including higher heat retention, better combustion, quiet operation and superior steam performance. The cast iron sections on the Series 8HE are factory tested and assembled with steel push nipples. These sections offer larger water content and increased water surface area in the boiler. Corrosion and mineral build-up is minimized and maximum heat transfer is maintained. This larger water content also reduces unnecessary make-up water in steam applications and quicker start-up is facilitated by better steam generation.
Thicker Walls and Higher Mass
The thicker walls and higher mass of the Series 8HE boiler maintains a high water temperature for a greater length of time after the burner has stopped firing. This higher heat retention reduces short cycling for maximum efficiency.
Advanced Control Platform
The Hydrostat® Temperature Limit Control uses Thermal Targeting technology to analyze thermostat activity and continually evaluates how much heat the building requires. To further enhance fuel efficiency, on a call for heat, the unit will energize the circulator pump to drive the residual latent heat from the boiler to the heating zone in an attempt to satisfy the heat demand without firing up the burner.
Hydrostat® Enhanced Digital Display with:
Dial-Type Settings, allow for quick and easy set-up.
Diagnostic Lights, continually indicates which features are active and if the control is holding the burner off for any reason. No complicated menus to scroll through.
Service Made Simple
The cast iron burner mounting plate is hinged to the boiler for a full swingout access to the combustion chamber while the burner is still attached allowing for quick and easy cleaning and servicing. From top of boiler, use a standard flue brush to clean between the tapered section pins.
Convertible Flue
The Series 8HE (3 & 4 section) boilers are assembled and packaged with flue exiting the rear of the boiler. For installations requiring a top flue, simply remove jacket top and reverse flue director to top.
Built and Backed for a Lifetime
Without question, cast iron construction offers superior durability and longer life. Each Series 8HE section is pressure tested and retested upon assembly. Your complete satisfaction on all Series 8HE boilers is backed by a lifetime warranty* and our commitment to excellence.(see warranty statement for complete details).