GBX
GBX Atmospheric-vented Hot Water Gas-fired Boiler
Discontinued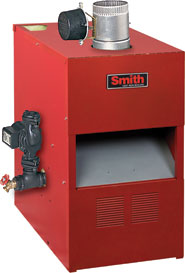 The Smith GBX gas-fired residential boiler is designed to provide dependable, efficient heat. Appreciated for its simplicity and relatively rare need for routine service, the GBX is available in 5 sizes ranging from 70 to 195 MBH with efficiencies of up to 82% AFUE.
Low Silhouette
The GBX features an internal draft diverter that allows venting directly off the top of the already low silhouette. Simple connection of the flue pipe to the boiler collar completes the GBX's venting system for discharge of flue gases.
Sized for Efficiency
You'll appreciate the flexibility offered by the GBX boiler. Five different sizes, each available with either constant or intermittent pilot makes it a cinch to size every system for maximum efficiency.
Built and Backed for a Lifetime
Cast iron construction offers superior durability and longer life. Each GBX Series boiler is full-fired at the factory prior to shipment and is backed by a lifetime warranty (see warranty statement for complete details).