GC160
GC 160 Condensing Boiler Package
Discontinued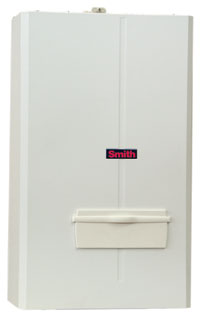 The GC160 series gas-fired condensing boilers offer high efficiencies in a convenient space-saving wall mounted package. Utilizing a patented parallel flow heat exchanger and state of the art premixair/gas modulation firing system for optimal combustion, GC160 boilers offer efficiencies of 93%. Units are offered in both "combi" and "boiler only" configurations.
"Combi" units provide both hydronic heat and semi instantaneous hot water all in one complete compact package. A mounted and wired system circulator pump and expansion tank are included as standard features on "Combi" units.
"Boiler only" units are offered with no integral domestic hot water package allowing customers the use of their current hot water supply equipment. "Boiler only" models can be easily piped to an indirect fired storage tank for additional storage capacity.
All units utilize a panel mounted "on-board" electronic control platform that allows for easy set-up and custom system configuration. GC160 series units are installation and maintenance friendly. All fuel and water utility connections are conveniently located at the bottom of the unit, external to the cabinet for ease of connection and service.
The GC160 is at the top of its class for performance and safety.
Domestic Hot Water ("Combi" units only)
Enjoy ample low-cost domestic hot water without the expense of a separate water heater. The GC160's domestic water coil is integrated into the boiler cabinet and easily removed for annual maintenance. Producing up to 4 gallons per minute, the semi instantaneous copper coil configuration has plenty of capacity for all your hot water needs.